Bethany Presbyterian Church. This church at NE 2nd & Geary doesn't have a lot said about it unitl its last days in 1960-62, discussed below. It certainly existed by the time the 1922 Sanborn Maps were done, a marked up crop of which is shown at right.

The earliest Oklahoman article I located was a "Public Record" note in the January 5, 1923, edition which remarked that G.A. Nichols had filed suit against the church to enforce a mechanics & materialmen's lien but without further description. Aside from a revival or other strictly church activity related note, the only other I found of historical interest was a March 13, 1940, article where the church's pastor was reported as saying that the residential area of the black community needed expansion to the north. The article appears below.
1922 Map: NE 3rd & Geary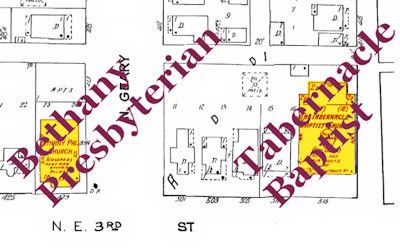 March 13, 1940


Unfortunately, the article doesn't particularly or even generally identify the area proposed by Rev. Lee as the "Negro district." North/south boundaries are fairly clear, but the east/west boundaries are not at all clear, Central being the only street named. But, Central to where? In fact, since the existing black community had Walnut as its western border, I've got my doubts about Central being accurate at all. But, presumably, the area would have been east at least to around Stonewall, certainly to High where Douglass School was located. To see my best guess about the proposed area, click here, but it's just a guess.

Looking back in time, though, notice in the pastor's remarks his implicit acceptance of a the very idea that a designated area for the black population was acceptable in the first place. Perhaps he was merely working as well as he could within the reality of the time to a white audience and was doing the best that he thought he could.