Irving School. Irving School between NE 3rd & 4th Streets on Walnut was built at least by 1898 as shown by the Sanborn Map Company map at the top right. In Oklahoma City, Capital of Soonerland (Oklahoma City Board of Education 1957), Lucyl Shirk noted that Irving School was one of four schools authorized by the city's 1st school bond election (1893) but that construction didn't begin right away -- unfortunately, she didn't say when that happened. The initial school building had only two stories but was expanded by 1901 and again in 1905 to add a 3rd story, reported in the December 29, 1905, Oklahoman article below. So, the early day postcard and other photos showing a 3-story building were made after that date.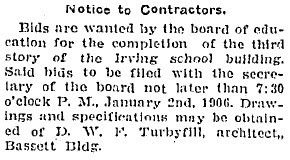 Irving was the 1st public school in the city limited to high school students, although, presumably, other schools previous to Irving spanned from perhaps grade school through high school. It apparently (though I've found no reports saying so) ceased being a high school when the "Oklahoma City" high school (later Central) opened on Robinson in 1911. A need for multiple white high schools wouldn't seem to have existed at that time.

In addition to its lineage as the city's 1st high school, Irving School had the distinction of serving as at least part of the state capitol after 1910 for at least part of the time while the new State Capitol Building was completed (recalling that the downtown India Temple housed the Legislature during the same time). As seems to be at least almost always true, this did not occur without controversy and bumps in the road. For more about that, see the following Daily Oklahoman articles: December 25, 1910; January 17, 1911; and May 26, 1911.

At least the main building of Irving School was totally destroyed by fire on January 28, 1937. A photo of the fired builing is shown in this June 22, 1937, article.

Apparently most if not all of the city's public school records were stored in the school and the fire consumed them, as well. After the fire, Irving was rebuilt in stages between 1938 and 1940 to result in the configuration we see today, shown in the 1949 Sanborn map below. A large part of the building's funding came from the federal government through the Works Projects Administration (WPA). Click on the map to read dates of construction.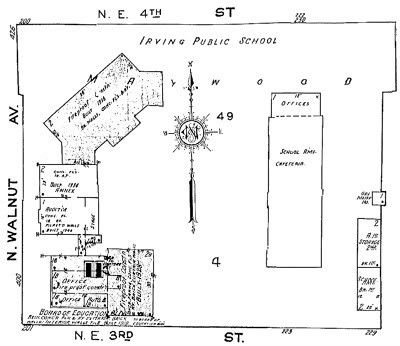 1898 Sanborn Map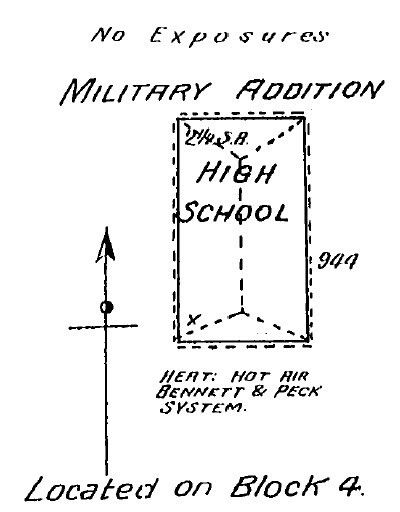 1901 Sanborn Map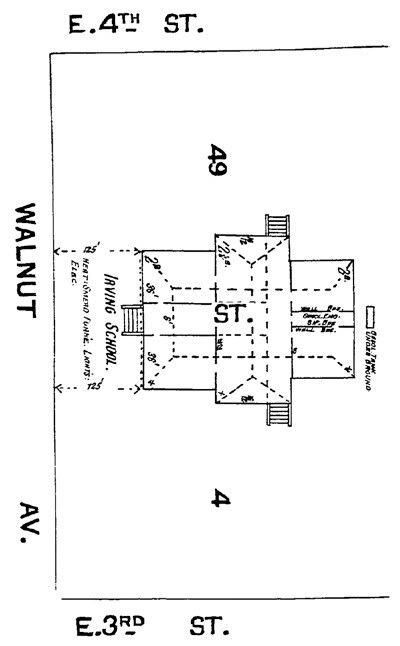 Irving continued to be an Oklahoma City public school until the early 1950s when it was closed as such. In an August 13, 2008, Oklahoman article, Steve Lackmeyer reported that after the school's closure it was acquired by the State of Oklahoma in 1956 and was used to house the State Insurance Fund Offices, and that, in 2008, it had been acquired by a private organization, Lawyers Title Insurance Company.