Littlepage Building. The Littlepage Building was built in 1924 at the southwest corner of Central Avenue & East (now NE) Second Street. William D. Welge's Oklahoma City Redisovered (Arcadia Publishing 2007) said, "[I]t served as the M&M Hotel to meet the needs of a thriving commercial interest of African Americans visiting the city. Such notables as Duke Ellington, Count Basie, Joe Louis, Sarah Vaughan, and Nat King Cole registered at the M&M Hotel." Apparently the hotel was located on the 2nd floor since the same source said that the 1st floor contained several businesses -- a restaurant, barbershop, and grocer. Mr. Welge also said that the building served as the headquarters of the Blue Devils band. For a brief article on the apartment building immediately south, click here.

The inset identifying marker at the top of the building looks like this: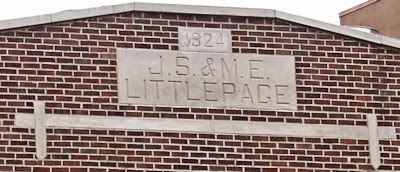 The current owners of the building are Kevin and Charifa Smith and Ms. Smith kindly furnished a photo of one of the original owners, below.
1922 Sanborn Map Updated To 1955