Mr. Luster died November 9, 1993, at the age of 83 and his funeral service was held at the Avery Chapel. As shown below, his home was added to the National Register of Historic Places in 1983.



April 3, 1983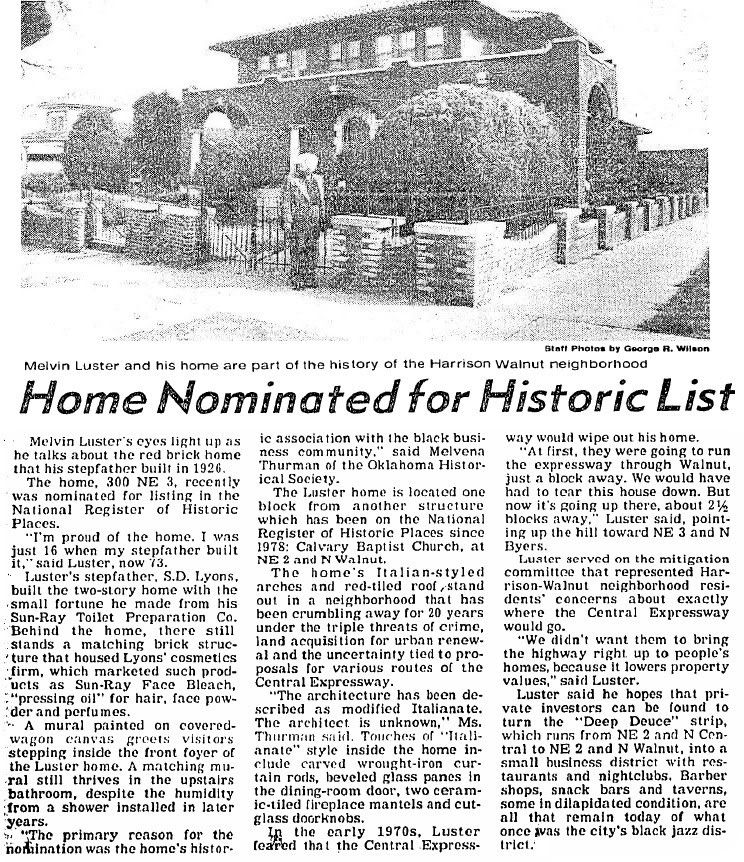 An August 6, 1959, Oklahoman article reported that a Melvin Lester was in the first group to receive a retail liquor license after selling liquor became legal in that same year. The article said that the license was granted to a building located at 306A NE 2, which would be south of the Aldridge Theater. I'm presuming, but do not know, that this was the same Melvin Luster who owned the above home.

Much more significantly, though, as noted in the above article, Melvin Luster served on the Mitigation Committee related to the location of Interstate 235 in the early 1980s and lobbied for a more easterly location before that. The original I-235 design would have run through Walnut and would have required destruction of the Lester home. Beyond that activity, he was otherwise involved in efforts which attempted to preserve as much of the neighborhood's character as possible. A few Oklahoman articles give more description and you can click on the following links for much more information about that. The first is a lengthy article April 7, 1980, article bearing the headline, "Black Community Status Left in Limbo," Recalling that the now-present I-235 has bisected a portion of the historic Deep Deuce community on either side of I-235, the article noted that a 1979 complaint had been accepted by the federal government. A snippet from the article reads,
Speaking in a crowded room at the Oklahoma City Chamber of Commerce, U.S. Transportation Department civil rights officer Ellen Feingold pointedly told city leaders, "I don't want to return to Oklahoma City 10 years from now and see townhouses, garden apartments and high-rise office buildings" in the area, with no semblance of the former black community remaining.
Although there are no high-rise office buildings in the area today, had she returned, she would have observed that townhouses and garden apartments have fairly well consumed the area except for a few remnants of the former black community which remain.

After the 1st page (on the real 1st Oklahoman page) of the article, in columns 2-3 of the above linked report, the article continues:
Repeatedly rebuffed by City Hall and black groups working with the Harrison-Walnut Neighborhood Association, the Norheast Second Street group remains undaunted. ¶ Spokeswoman Myrtle Clayton said, "I used to play hopscotch on Secon Street and sold the Black Dispatch newspaper." ¶ Black businessman Melvin Luster "came to me (Mrs. Clayton) with tears in his eyes. He said they had been going down to City Hall for 10 years" in efforts to improve the area, but nobody listened. * * * ¶ The group secured 1,500 signatures from residents agreeing they want to save such area structures as the Slaughter Building, which formerly contained a dance hall, and the Inman Page school [originally the Bryant school], now closed. ¶ Aligned with several other recently formed redevelopment groups, Northeast Second Street has drawn up elaborate plans for preserving NE2 and developing it into a tourist complex.
A June 18, 1980, article indicates that the City Council gave some support for the Deep Deuce advocates, but, as it developed, not enough. A follow-up by Steve Lackmeyer in his March 1, 2000, article presents a review 20 years later. The Deep Deuce remants which we now know that survived this time are few and far between.

As noted above, Melvin Frank Luster died November 9, 1993. After his death, two other deaths occured in the Luster home but not by natural causes. In December, 1993, Melvin Lester's son, Donald Wayne Luster, killed James Turner, Jr., by a shot to his head. Although he claimed it to be an accident, he was nonethless charged and convicted in the killing. Two years later, in June 1995, Donald Luster was the victim in what was reported as an apparent drug-related murder. Relevant articles appear below.
December 18, 1998












Public records show that the Luster home remains in the family as this article is written.

Photographs which I took of the home and surrounding properties in July 2008 appear below. Following the 2-story home is a 1-story home immediately east of the home and which I presume is the smaller home built by Mr. Luster in 1915. Below that is a building south of the home on Central and I don't know whether this dilapidated structure is part of the Luster property or not, but I'll show it for reference just the same. Click on any photo for a larger view.
June 11, 1995




June 23, 1995