St. John's Baptist Church. Of the churches included in the Deep Deuce area of the vintage map, this is the one I know virtually nothing about. It almost didn't make an appearance in the Oklahoma City Sanborn Map Company series that are available on-line via the Oklahoma City Metropolitan Library System. But, in the 1922 map, it did, shown at the right. It is not in any Sanborn map prior to 1922 (1894, 1896, 1898, 1901, 1904, 1906) or after (1949, 1950, 1955).

In my search of the Oklahoman archives, not a single mention was made of this church during the time that it would have existed. It didn't even appear in the Church Directories which regularly appeared in the Sunday editions. As an example, see the September 7, 1928, Church Directory, below. I've deleted parts of the article which are superflous to my point. St. John's Baptist is missing (note that the St. John's mentioned is a different church). Neither did the church appear in any Church Directory I looked at before or after the 1928 article below.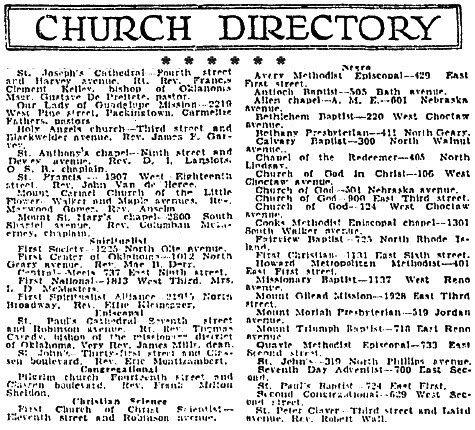 1922 Sanborn Map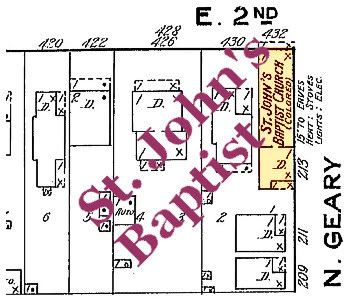 I can't tell you when it started; I can't tell you when it closed. I can only say that it was in the 1922 Sanborn map, and that it was mentioned in a February 11, 2004, Oklahoman retrospective article which discusses Deep Deuce's cultural and musical heritage. The article describes the church as "St. John Missionary Baptist Church" but gave no description whatever -- it was mentioned as a pair of bookend Baptist Churches at the opposite ends of East 2nd Street, Calvary Baptist being the other.

If I learn more, I'll amend this mini-article. But, don't hold your breath.