University Hospital. The University of Oklahoma's University Hospital opened at the southeast corner of NE 13th Street and Phillips Avenue, 800 NE 13th Street, in 1918. At right, click on the 1922 Sanborn Map Company map for a larger view. For a mini-article about the medical school's earlier history at the Rolater Hospital, click here.

A pair of Oklahoman articles described the new facility. Click here for a January 29, 1918, article; an excerpt from a May 12, 1919, article is set out below -- click the image for the full article.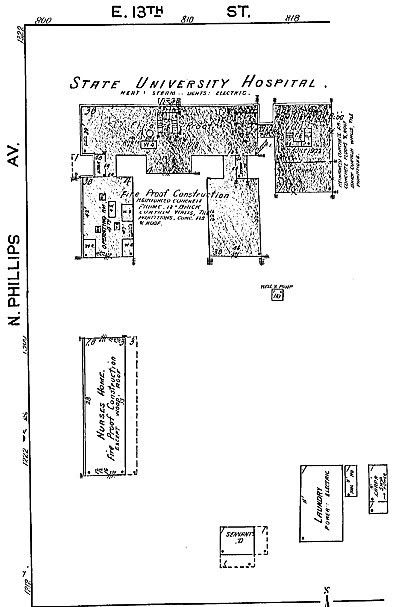 In the above Sanborn map, the enlarged view (click on the image) shows that the original 1918 building did not include the wing at the right which was an administration and kitchen building added in 1922.

Both of the just referenced Daily Oklahoman articles say that the building was located on East 13th & Lindsay -- that is incorrect. As shown by the above Sanborn map, the building's location was at the southeast corner of East 13th & Phillips, not Lindsay.

As noted in the May 12, 1919, article, the property "on Fourth street" (the Rolater Hospital) continued to be used after University Hospital was built. As described in the Rolater Hospital article, a 10-year lease on that property lasted until 1921.

I am presently unsure of where the College of Medicine was principally located during the hiatus between 1919 and 1928 when the new Medical School building was completed. The City Hospital was also being used by the state during at least some of this time, so there may have been a bit of juggling until 1928.

Also, see the Medical School and Crippled Children's Hospital articles.