Utopia Hospital. Dr. William Lewis Haywood, most often seen in print as "W.L.," is credited with opening the first black hospital in Oklahoma City, initially called the Utopia Hospital. The cover story article in the December 2005 issue of Oklahoma City Key Magazine says that Dr. W.H. Slaughter was also a founder of the hospital, as does Dr. J.A. Cox in a 1942 Oklahoman article which will be shown shortly. According to an October 20, 2003, Oklahoman article by Steve Lackmeyer, "Haywood founded Utopia Hospital, 415 NE 1, as the first hospital for blacks, and later became the first black physician at University Hospital, which is now the OU Medical Center." In a March 1, 2001, Journal Record article by Max Nichols, "Re-evaluating Deep Deuce," Nichols gives the same physical address for the hospital but doesn't identify it by name.

A photo is shown at the end of this article. Also, see the Haywood Building mini-article.

But, why have I added a "?" by the hospital's name?

At first blush, the hospital's first location seems pretty secure even though neither Nichols nor Lackmeyer offered any corroborating evidence. I like to know original sources if possible when reporting history. More, none of the articles above mentioned date the hospital's beginning and ending nor do they speak of other possible locations and/or when they occurred. As will be observed below, the hospital did move and it also came to have a different name.

A thorough search of the Oklahoman's 1901-1910 archives shows only two articles which mention the hospital, one of which gives another address for the hospital, as shown below.
1922 Map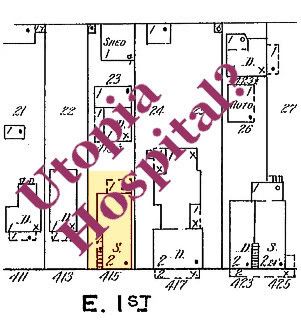 1922 Area Map (click for larger)