Webster/Moon Jr. High School. Three junior high schools were construted in 1919-1920, Classen Jr. High at the southeast corner of the former Epworth University campus, a block west of Classen Blvd. & between W. 19th & W. 17th Streets, Webster Jr. High at 1100 N. Lindsay, and Capitol Hill Jr. High on S. Robinson (outside the perimeter of this vintage map).

All were similar in appearance and had the same features -- expandability, an indoor swimming pool, and a gymnasium.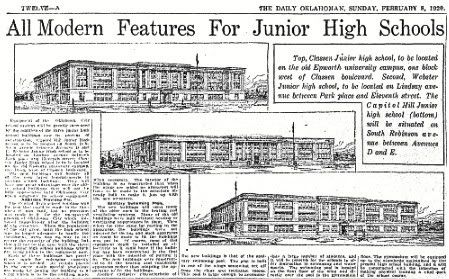 A March 11, 1973, Oklahoman article noted that this school's location adjoined an Oklahoma historical site, the "Payne (Oklahoma Boomer) Camp Site," one of several camps used by Boomers and travelers in the 1870s and 1880s.

The school became Moon Jr. High in 1960, named after F.D. Moon, Douglass High School principal from 1940-1960. The Moon school became involved with U.S. District Court Judge Luther Bohanan's desegregation "Finger Plan" and he twice ordered the school closed but relented upon requests by the city's Board of Education. However, in 1972, he ordered the school to be closed, as noted in the February 28, 1972, Oklahoman article below: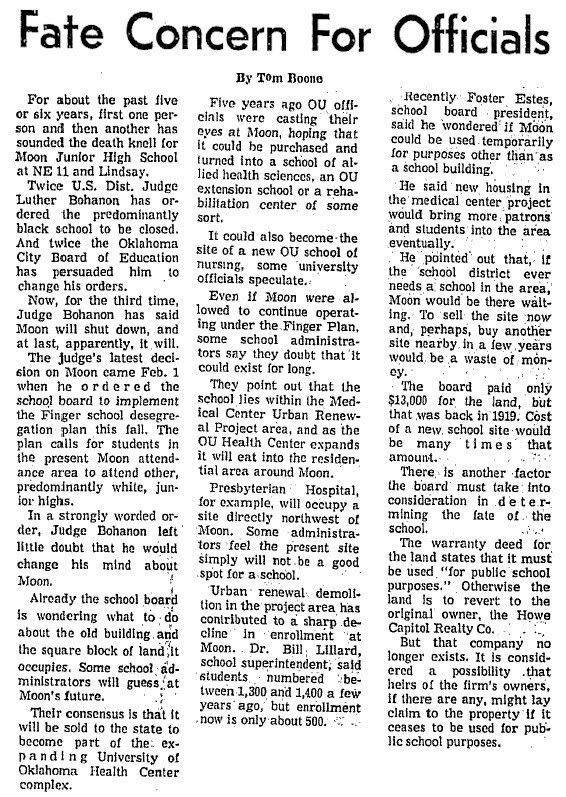 After closing in 1972 or 1973, the property was acquired by the Oklahoma Health Center and was used as an administration building, its present use today.